Ebola - Sukkah Protection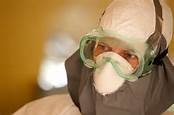 As the world struggles to contain the Ebola crisis, Jews around the world are preparing to step outside their own zones of feeling secure, too – literally.
As the seasons change and the air gets chilly and we start to retreat indoors, on Sukkot Jews do the opposite, eating, spending time, even sleeping outside in a sukkah, a temporary hut that provide scant protection. When we sit in a sukkah, we become hyper-aware of how vulnerable we are to our surroundings: the rain, the sun, extremes of heat or cold. For one week, we acutely feel that we are dependent on something outside of ourselves.
The thought of coming face to face with our vulnerability like this might seem frightening, something negative and stressful. But another name for Sukkot is Zman Simchateinu, the time of our joy.
Sukkot commemorates the huts our ancient Jewish ancestors lived in during the 40 years they travelled after leaving Egypt. Each day, they were fed with a miraculous food, manna, which helped them realize that they were ultimately dependent on God for their survival. Today, when we recreate these circumstances, moving outside to live in our very own sukkahs, we also realize anew that what we have comes not only from our own labor, that the Almighty is the ultimate source of our protection and everything that we have. We are not alone; we live under God's ever-watchful, loving embrace.
As we confront the Ebola outbreak and our other challenges, we have to act responsibly and put in our efforts to solve our problems and ensure our own security. But we also have to acknowledge that we cannot do anything without God's help. During Sukkot, when we feel closer to the Divine than at any time of the year, let's remember that our sense of security living in a hostile world that we cannot fully control comes from the Almighty Who has got it all under control.